[x_text]Welcome to our film projects page. On this page you find information of some of the most recent project that our company have either participated in or completely produced, or are currently under development.[/x_text]
A unique combination of sports drama and romantic comedy. Without You follows the life of Odesio, a two-bit hustler who falls in love with the daughter of a notorious drug lord.  Upon being offered the opportunity to become a professional MMA Fighter, he jumps at the chance in an effort to obtain the riches and fortune that he feels are necessary in order to provide for her, the lifestyle that she is accustomed to. Little does he know that while he is away struggling to make a name for himself, her ex-fiancee plots to steal her away.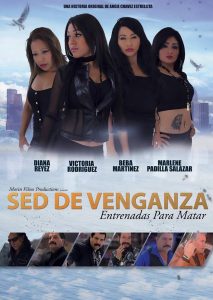 A Spanish language feature Film about a rag tag team of women team up to take revenge on the men that stole their lives 10 years ago.
A boy that was born with a rare genetic defect which impedes him the ability to speak, find a friend in an old man with a special gift of making inanimate objects talk. Upon the death of the ventriloquist, he leaves behind the dummy and with it the ability to speak.
A Spanish language "narco style" feature film about a man who becomes a vigilante and is revered by the people he protects.
Click here
 A dark comedy about an irreverent couple of lawyers who will do whatever it takes and go where no goes in order to solve your problems.