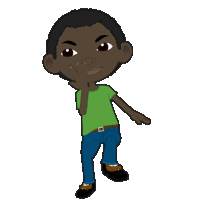 Billy is an all new G2 Base Model for CrazyTalk Animator. He comes fully rigged and and ready to animate. The all new Billy 2.0 features even higher construction quality with pixel perfect joint articulations, expressive hand gestures, a cleaner art style perfectly suited for TV and Film, and more balanced body fit based on newly discovered construction techniques.
Billy 2.0 will twist and bend seamlessly and has a higher range of motion than any character we've developed so far. Take a look at the video on the right and see how Billy 2.0 can be easily brought to life using using an Xbox Kinect sensor.
Make him your own.
If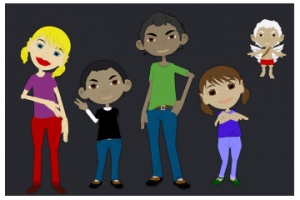 Billy fits the basic mold of the character you require for your production, you can easily customize him into your own character, either with your own artwork or using parts and accessories from other Billy 2.0 derived characters such as Lucy, Jesse, Icarus, and Cleo.
You may also hire us to create a special custom character just for you, built on top of the Billy 2.0 framework or purchase a copy of the source file so that you can modify and create your own. Since the frameworks is already built, getting a new character out of him is a lot cheaper than having one built from scratch. Of course if you do need a custom character done from scratch, we do that too.